Ethereum is still unseated at the top of the NFT industry, accounting for over 80 percent of the NFT volume in the first quarter of the year.
Solana has gained ground and came in at second place, with Axie Infinity's Ronin, which was exploited for $600 million, coming in third.
---
In the last quarter of 2021, it seemed like all the crypto industry was focused on was NFTs. Celebrities and brands were either spending millions of dollars to purchase them or were minting and selling them and the trading volume on OpenSea and other marketplaces was soaring. While the hype may have died down a bit, NFTs still hit $10 billion in the first quarter of the year, with Ethereum once again proving to be unbeatable as the king of the industry.
Messari, a crypto data analytics firm, published its Q1 report on NFTs on Wednesday, revealing some of the key trends of the first three months of the year. It stated:
While NFT market daily volumes have dropped in recent weeks, the first quarter of 2022 recorded $10 billion in secondary sales volume, a record high. The top six NFT platforms were responsible for 98% of the volume.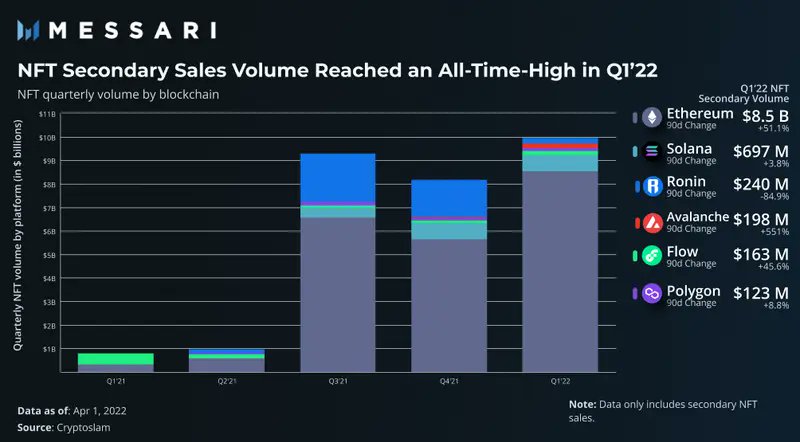 As data from Crypto Slam shows, Ethereum dominated the market, accounting for $8.5 billion of the $10 billion traded in NFTs in the secondary market in Q1. The platform only monitors sales of NFTs from one owner to another and doesn't include the initial sale of the digital collectible.
In the past 30 days, the top ten most valuable NFTs were all on Ethereum.
Solana came in at a distant second with $700 million in NFTs sold. While it's still a long way from catching up with Ethereum, it has seen some growth over the past 90 days as more people prefer it for its low fees and fast transactions, although a series of outages tested the faith of many of its fans,
Solana has also recently been integrated by OpenSea, the largest NFT marketplace in the industry. After teasing that it would expand beyond Ethereum NFTs, OpenSea finally did and opened trading of Solana NFTs in beta mode at the start of the month.
The moment you've been waiting for… @Solana is officially on OpenSea – starting today, with our initial beta!https://t.co/VjhqeGHZxc

— OpenSea (@opensea) April 6, 2022
This integration doesn't seem to have paid dividends yet for Solana as its growth of 3.8 percent in Q1 was way below the 550 percent recorded by Avalanche.
All-time, Solana ranks third after Ronin which has seen the secondary sale of $4 billion worth of NFTs, twice the size of Solana's. However, an attack on the Ronin bridge which saw the theft of $600 million shook the confidence of many of its users.
Related: "I couldn't control my emotions, I burst into tears": Axie Infinity CEO addresses $600m hack for the first time