Founder of DeFiance Capital, Arthur Cheong said on Twitter that a hacker has stolen his NFTs, Cheong lost 78 different NFTs from five collections.
Cheong thinks the breach happened due to a transaction he initiated on-chain.
---
Arthur Cheong, the founder of DeFi and web3-focused venture capital firm DeFiance Capital, lost more than one million dollars worth of Non-fungible tokens (NFTs) today in a hack. Arthur Cheong confirmed the hack in statements posted on Twitter.
Was pretty careful and stuck with only using hardware wallet on PC until I start trading NFT more regularly.

Hot wallet on mobile phone is indeed not safe enough

— Arthur 🌔⛩️🦔👻 (@Arthur_0x) March 22, 2022
In the last few hours, an unknown hacker began draining NFTs from Cheong's Ethereum wallet. Security company PeckShield estimated that the stolen assets included 17 Azuki, 5 CloneX, 2 Hedgies, and 33 Second Self – all popular NFT collections. The cybercriminal also stole 68 Wrapped Ether (WETH), 4.32 thousand Staked DYDX, and 1.57 thousand LooksRare. The hacker tried to get rid of digital art items on the OpenSea Marketplace.
In total, the criminal's wallet currently contains about 585 ETH ($1.7 million), which can be traced back to Cheong's wallet. According to Cheong, the amount could still increase as the hacker is still in the process of transferring funds. The DeFiance founder said the hacker used "targeted phishing" emails to deploy malware on his device.
He also posted a screenshot of this email: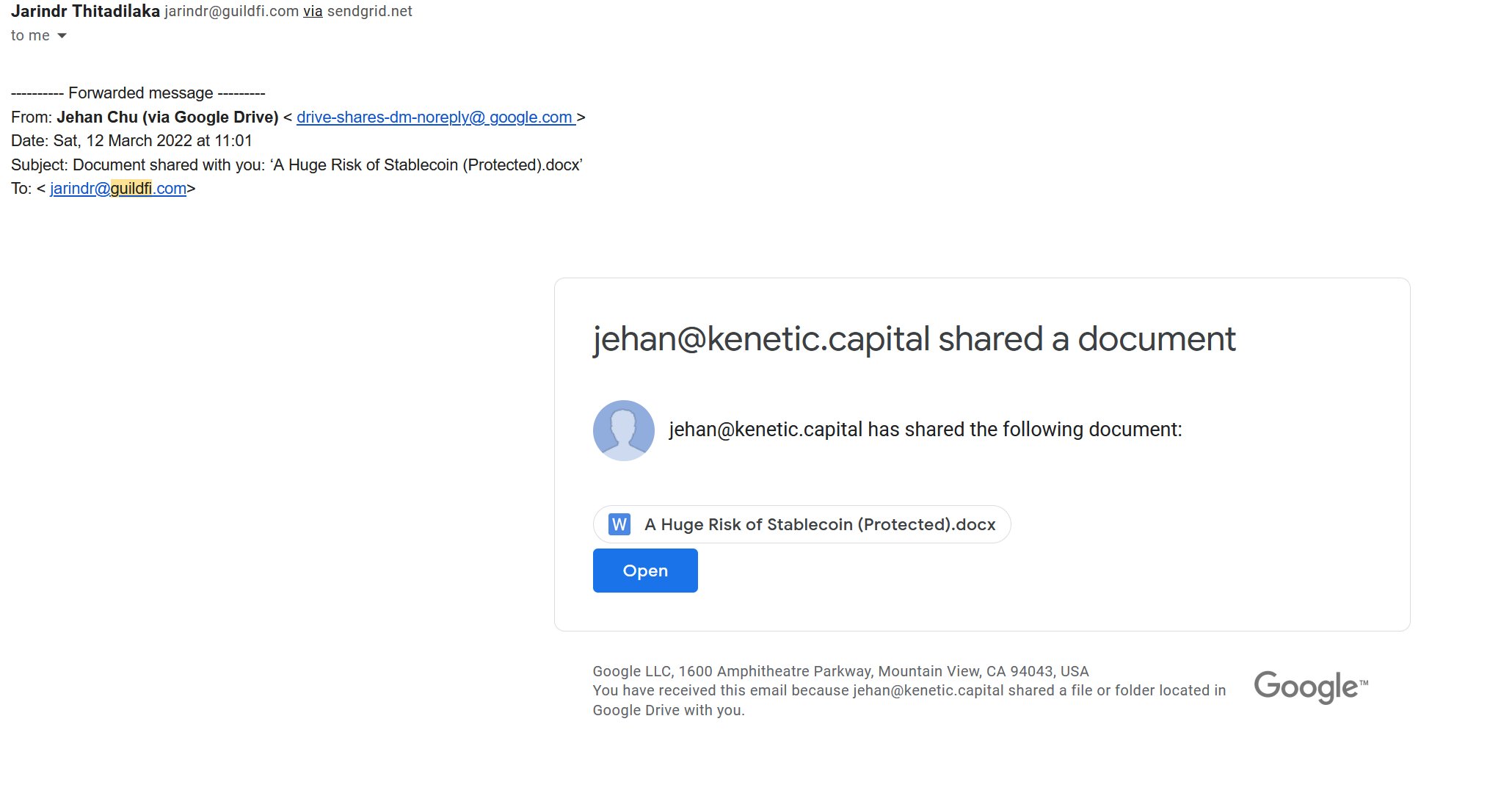 Arthur further shared this statement:
"Found out the likely root cause for the exploit, it's a targeted social engineering attack. Received a spear-phishing email that really seems to be sent by one of our portco with content that seems like general industry-relevant content. They are likely targeting all crypto peep"
Support from the crypto community
Arthur Cheong has received incredible support from the crypto community. People are cooperating to help Cheong recover his stolen collectibles. In fact, there have been calls to blacklist the hacker's wallet.
One member of the NFT community under the nickname Cirrus went so far as to buy two stolen NFT Azuki at his own expense and return them to Cheong at cost price, noting that he was not going to profit from another man's tragedy.
He said:
Came upon they have been hacked, and as a substitute of marketing them for benefit like the opposite other people who were given a few of his, made up our minds I'd promote them again to him at price to assist him out.
Yo @Arthur_0x two of my bids got accepted on your hacked Azukis. Willing to get them back to you at cost. DM me pic.twitter.com/cBIX9QNLNu

— Cirrus (@CirrusNFT) March 22, 2022
An on-chain transaction, Arthur believes, was to blame for the security breach, which may have also compromised the seed phrase or private key from a hardware wallet.
The number of scams and hacks involving NFTs and cryptocurrencies is increasing. Investors are encouraged to take extra precautions with their funds/NFTs. Serial scammers even create initiatives to exploit the NFT community, then pull the rug out from under them and move on to the next con.
This is a gold rush for hackers, and they're doing everything they can to come up with new ways to take advantage.
Arthur sent a message to the hacker, expressing his frustration and hatred. He remarked in a tweet:
The only thing I can say to the hacker is: you mess with the wrong person.